Saved or satisfied? By Doug Cox
I didn't give it too much thought the other day when my yellow lab Samson was bounding through the water in the little creek that borders our property. Like most labs he loves playing in the water and with sticks. It was a scorcher that day and so that's what I thought he was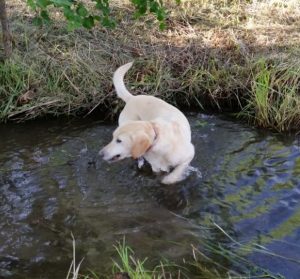 doing, playing and cooling off when he emerged with a lifeless baby duck hanging limply in his mouth. His eyes sparkled and even though I felt bad for the duck I know he was only doing what he was born to do, swimming, hunting and of course trying to satisfy me.
When it comes to humans satisfying both ourselves and others can be tricky business. In fact, satisfying others is usually not our primary goal. We generally tend to put ourselves first. God knows this and that's one of the reasons He gave the 10 commandments to His people. The first four probe for the answer of who is first in our life? God or self? He forbids the worship of any other gods or to make graven images. He forbids the misuse of His Holy name and requires keeping the Sabbath Day holy.
The next six commandments address our relationships with others. Children honor your mother and father. You shall not murder, commit adultery, steal, lie or covet your neighbors stuff. Breaking any of these commandments means we are not putting God or others first and it proves we are sinners. The commandments make us look at ourselves honestly.
Romans 3:20 says "…by the deeds of the law there shall no flesh be justified in His sight, for by the law is the knowledge of sin" Contrary to what most people think it's not our good works and deeds that save us. That's not what God is looking for. Good works and deeds are spawned out of love for God and others, not as a payment for sin. Besides, trying to justify ourselves by keeping the commandments means we would have to keep all the commandments faithfully, every day and never make a mistake. James 2:10 says "For whosoever shall keep the whole law, and yet offend in one point, he is guilty of all."
Good works matter, but to think we can satisfy God and find entrance into His kingdom by them is contrary to the gospel of Jesus Christ. In fact, if that were the case the whole idea of Jesus going to the cross is outrageous. God could be accused of being an abuser. If we could save ourselves by works why would Jesus have to suffer? Believe me, if there were another way to salvation than the cross the God of love would not have allowed His only begotten Son to be tortured in such a way. Romans 5:8 says "But God demonstrates His own love toward us, in that while we were yet sinners, Christ died for us." Paul writing in Galatians 2:21 said "I do not frustrate the grace of God for if righteousness come by the law, then Christ is dead in vain."
My dog's nature is to chase ducks. Our nature as humans is to sin and satisfy self. The only cure for sin is faith in Jesus' words, His sacrifice and resurrection. I pray that today we all can understand the power of the cross and God's love for us more than ever. May we all turn our hearts and respond by faith to His remedy and in so doing find ourselves both saved and satisfied!