Be strong in the Lord! by Pastor Doug
Be strong in the Lord!
By Doug Cox
We all know there has been a lot of unsettling things going on around us. It's almost a dread to hear the word coronavirus. Then to find myself off balance during my morning exercise routine was weird. Seeing the chandeliers and hanging ornaments swinging back and forth told my brilliant mind "it's an earthquake." It was unnerving. I thought virus and earthquakes, what the…? then Jesus words "great earthquakes in various places, and famines and pestilences…" (Luke 21:11) Isn't it amazing how our minds can imagine different fearful scenarios quickly? That's why I'm writing about strongholds today.
We all know about strongholds. Castle fortresses with walls high enough and strong enough to keep attackers out and built to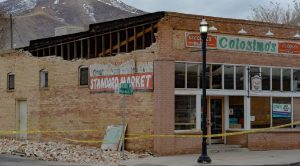 protect those residing within. A prison is a stronghold designed to contain captured law breakers. Sometimes there are strongholds within the stronghold AKA maximum security cells where the most dangerous criminals are confined.
The Apostle Paul refers to another kind of stronghold in his writings to the church at Corinth saying "for the weapons of our warfare are not carnal but mighty in God for pulling down strongholds." (2 Corinthians 10:4) Here he isn't talking about a physical fortress but a spiritual one. A study of the Bible reveals there are both good and bad strongholds or fortresses.
God wants people to put their trust fully in Christ. We are called to be strong 'in' the Lord. Maybe you have heard of the armor of God? This armor is made up of the belt of truth, the breastplate of righteousness, the shield of faith and the helmet of salvation. (See Ephesians 6). The idea of putting on spiritual armor is about using our faith to make the Lord our stronghold.
To do that we can use God's Word to paint mental pictures of ourselves trusting in Him. For instance, Psalm 23:1 says, "the Lord is my shepherd I shall not want." I can imagine myself as a sheep in His flock, (sometimes a dumb one) but He's right there watching over me with His rod and staff. Faith believes our Great Shepherd is committed to taking care of us. There are many examples of the Lord being our hiding place. You find expressions of the shelter He provides in Psalm 27:5; Psalm 32:7; Psalm 119:114. Reading these verses helps bring me peace.
Last days or not Jesus said, "in this world we will have tribulation." But He also said to "be of good cheer" because He has overcome the world. (John 16:33) It seems that much of the tribulation we experience comes from within. We get afraid. Fear builds walls using our unrestrained imaginations. We wonder what's going to happen next and will it happen to me and how will I survive? We lose sleep, get depressed, feel our stomach tied in knots and yes, we buy too much toilet paper. Fear remains as we continue to listen to the echoes of trouble within, in fear's echoing imagination castle.
Fear doesn't have to dominate us. Paul encourages us to use the mighty spiritual weapon of God's Word to pull down the strongholds of fear. Do an internet search. Find Bible verses about fear and peace. Verses like Isaiah 35:4, "to those who are fearful-hearted, be strong, do not fear! Behold, your God will come with vengeance, With the recompense of God; He will come and save you." Let's use our minds to meditate on God's Word and by faith make Him our fortress. Even though our world is shaken we don't have to be!