By Pastor Doug Cox
Ezra 9:1
"When these things were done, the leaders came to me, saying, the people of Israel and the priests and the Levites have not separated themselves from the peoples of the lands, with respect to the abominations of the Canaanites, the Hittites, the Perizzites, the Jebusites, the Ammonites, the Moabites, the Egyptians, and the Amorites." (NKJV)
Ezra a priest and foreshadow of the great High priest the Lord Jesus, was a leader over God's people beginning around 538 B.C. God's people had been carried away to bondage by the kings of Persia many years earlier and finally found favor under king Cyrus and later king Artaxerxes to rebuild the Temple. Once the rebuilding of the Temple began in Jerusalem the first wave of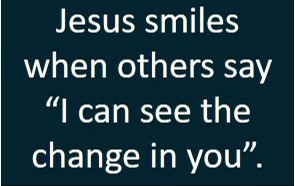 people became discouraged. Then another faithful group under Zerubbabel completed the work and the Temple was dedicated around 515 B.C. Another 60 or so years later another group of exiles returned to Jerusalem under Ezra who appointed leaders and operated as a spiritual reformer. Ezra 9:1 describes one of the problems that troubled Ezra very deeply as time went on. The problem was they had "not separated themselves" from the customs of the people they had been delivered from. They were no different from the world.
Under the New Covenant, once a person gives their life to Christ a new lifestyle should emerge. How we handle our time, our money, our relationships and so on should become different because we are not the same person we used to be. Following Christ produces a changed life and will impact every aspect of our life over time. Our worldview changes. Our attitude changes and even our relationships change.
When a person truly believes Jesus is Lord, that belief will reflect in their actions and lifestyle. If their priorities don't include intimacy with the Lord involving, prayer, worship and His Word. If they don't include regular fellowship with other believers, using their talents and finances to support the gospel, etc., then there is a good chance Jesus has been pushed off the throne of their heart. A lifestyle with wrong priorities could make our Great High Priest Jesus weep in our day just like Ezra did in his day.
Let's be determined to be the 'real deal' when it comes to our Christianity. Let's include in our everyday plans an offer for Jesus to lead us deeper into fellowship with Himself, His will and with those who love Him. Let's be determined to live a life dedicated to being different than the world.
Prayer
Dear Father God, I want You to open my eyes to areas in my life that need change. Help me surrender those areas so I can think different and act differently than I have in the past. Thank You for your mercy and help so that I can better resemble Jesus. In Jesus' name. Amen.