Do yourself a favor!
By Pastor Doug Cox
In John 13:34-35 Jesus emphasizes the importance of love by saying "a new commandment I give to you, that you love one another; as I have loved you, that you also love one another." He made it clear to us that loving people and demonstrating His love to others should be a priority. Simply put, love is a decision to treat people the way Jesus would treat them. So, here is a question. Where does love fit into your list of priorities?
We often prioritize by value. Whatever is valuable or important to us, we place it high on our list of priorities. Some make their diet a priority for different reasons. Some put their kids first, wanting them to have more than they had as a kid. Some put work or hobbies or pleasure first. Sometimes in that order making no room for much more. There's nothing wrong with any of these things, unless they are out of place. If they push love out of its place, that's a big mistake.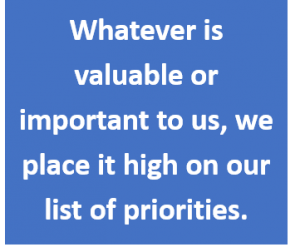 One reason we fail to put love first is because we don't see its
value. It's not always easy to be loving to others. It's not always appreciated but walking in love could be the very reason someone you know comes to Christ. John 13:35 says "By this all will know that you are My disciples, if you have love for one another." Believers should study about love, pray about love, and develop the fruit of love by practicing loving others. Sharing love like that will not only bless others but encourage you as you share that love. So, let's all do ourselves a favor and make love a priority.