GF or LOL – it's your choice! by Pastor Doug Cox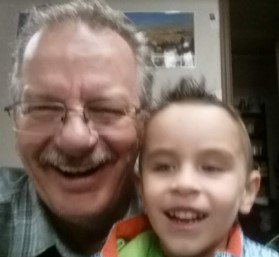 Most people use emojis when texting or writing emails. We use the laughing face, angry and sad faces with tears and so on. In light of the horrible news out of Colorado's school shooting, both the angry and sad tears would apply today. Sometimes I'll type LOL when there is something humorous that I'm responding to. As you all know, LOL stands for 'laugh out loud.' For a long time I thought it stood for 'lots of laughs.' I suppose both phrases would work. Whether you use an emoji or just type the letters I wonder how deep the feeling really goes. Usually my LOL means I have a smile on my face and occasionally a small little chuckle, but hardly ever does it reflect a full throttle laugh, something that in my opinion is desperately needed in our world so filled with stress, violence, hatred.
Okay now I'm going to get personal and ask when was the last time you had a really good out loud laugh? When was the last time you laughed until it hurt? Do you think laughter is an important thing everyone should try to embrace and do more of? If so, you should be smiling right now but if not, why not? What if I were to tell you laughter is one of the most valuable elements in having a happier, satisfying life and it could make all the difference in the world for many if they knew they could train themselves to do it.
Here's a test for you. Think about something that really makes you happy and smile. Now, go the extra mile and start to laugh about it. How far can you go? Now think about something that worries or troubles you. Maybe that thought will spark a little anger deep down and how easy would it be to start grumbling about it? In comparison which emotion makes you feel better and which emotion was easier to act on? For me laughter wins and makes me feel better. Because I have been working on thinking happy and laughing more, it wins as what's best for my inner man. (I actually went to bed last night with a smile on my face).
Laughter does something on the inside of us that is very wonderful, powerful and important. Laughter can make you feel better and Proverbs 17:22 explains why. "A merry heart does good, like medicine, but a broken spirit dries the bones" (NKJV). The (ESV) says it this way "A joyful heart is good medicine, but a crushed spirit dries up the bones." Nehemiah the prophet of old gives even more insight telling the people who were filled with sorrow and weeping after realizing they had been dishonoring God's law. He "…said to them, go your way, eat the fat, drink the sweet, and send portions to those for whom nothing is prepared for this day is holy to our Lord. Do not sorrow, for the joy of the Lord is your strength." Wow! Did you see that? Strength comes from joy. No wonder the devil works so hard to keep us sad.
I realize it is not easy for everybody to laugh on demand. But think about it… maybe it should be! Be honest with this next question. How easy is it for you to frown and grumble? Pretty easy for me sometimes. Guess what? Grumbling, complaining and frowning excessively are learned behaviors. It's one thing to get upset if someone came up to you and spits in your face compared to getting upset about how someone looks at you. It may not be obvious on the outside but too many of us are having a GF on the inside. (Grumble Fest). It seems wrong emotions can develop hair triggers. For our own good we should work on getting rid of the GF attitude.
Being negative and downcast often comes naturally but the point I'm trying to make is we can get very good at it. What if we retrained ourselves to be more joyful? I know I'm throwing out a lot of questions, but we all know a little better attitude is a worthy goal. If we can train ourselves to have a better attitude, we can train ourselves to laugh as well.
I found these statements on Wikipedia about laughter.
Laughter researcher Robert Provine said "laughter is a mechanism everyone has; laughter is part of universal human vocabulary. There are thousands of languages, hundreds of thousands of dialects, but everyone speaks laughter in pretty much the same way. Babies have the ability to laugh before they ever speak. Children who are born blind and deaf still retain the ability to laugh."
Norman Cousins developed a recovery program incorporating megadoses of Vitamin C, along with a positive attitude, love, faith, hope, and laughter induced by Marx Brothers films. "I made the joyous discovery that ten minutes of genuine belly laughter had an anesthetic effect and would give me at least two hours of pain-free sleep," he reported. "When the pain-killing effect of the laughter wore off, we would switch on the motion picture projector again and not infrequently, it would lead to another pain-free interval."
I don't know about you but I'm going to work on releasing this universal language of laughter from my life a lot more. I know some grand kids who will like it and cooperate. It might take a few tickles, but it won't be too long and we will all be rolling on the floor. I'm going to laugh more even if I am laughing by faith. I'm going to invest in LOL. Learning of laughter! Leaning on laughter! Laughing out loud! And yes, Lots of laughs! Because the joy of the Lord is my strength and whoever heard of having joy without having a good laugh. And in light of this fresh revelation on laughter… more than every once in a while.