Laugh or Cry! by Pastor Doug
Laugh or Cry!
Sometimes you have to laugh to keep from crying. Last month it was halfway down my throat when I realized what I had just done. I had taken one to many of the pills I have to take every morning. I spent the rest of that day feeling a little fuzzy in the brain. I don't know if it was just in my mind or not but I felt a little off.  I know some of you who know me a little better than others would say that's normal for me but that's okay and wait till you hear what happened today.
I was excited it wasn't raining, the sun was shining and the temperature fairly warm, meaning I could have an enjoyable bike ride out to the church. Showered and ready to go I took one last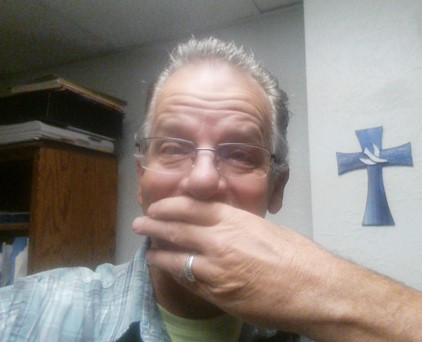 look in the mirror at myself and decided I needed to trim my mustache. In a rush I grabbed my trimmer out of the cabinet, hit the on switch and started my first up stroke like I always do only to realize about a quarter of the way up it was a bare blade. Larger hairs than usual were falling into the sink. I forgot to snap the hair length adjuster on. Needless to say, my mustache is a lot smaller now than usual and if you laugh at me when you see me I'm glad to help bring some happiness into your life.
A few reasons I can laugh at my goofy mustache…. because it distracts from the mole on my left cheek…. because if people are looking at my mustache they won't notice if I forgot to zip up after going to the men's room and… because it distracts from seeing bits of breakfast or lunch on my otherwise clean shirt.
Proverbs 17:22 "A merry heart does good, like medicine, but a broken spirit dries the bones." We have a choice to laugh or cry. Sometimes crying is the right thing to do but why not turn as many of our mishaps and missteps into fodder for laughter when we can?
Other versions of Proverbs 17:22
"A cheerful heart is good medicine, but a crushed spirit dries up the bones." (NIV)
"A cheerful heart is good medicine, but a broken spirit saps a person's strength." (NLT)
"If you are cheerful, you feel good; if you are sad, you hurt all over." (CET) 
"Being cheerful keeps you healthy. It is slow death to be gloomy all the time." (GNT)
"A joyful heart is good medicine, but a broken spirit drains one's strength."  (ISV)