By Doug Cox
The book of Proverbs in the Bible is filled with practical wisdom. Its multiple Divinely inspired writers bring out many contrasts between the rich and the poor, the wicked and the righteous, the diligent and indolent and more. It speaks of pitfalls and habits that hinder the fruitfulness and success of man along with healthy attitudes, habits and character that produce it. Many simple, relevant truths can be discovered in this ancient text proving that it is not an antiquated book nor are the lessons from the tiny little ants in its pages.
(Finish reading from where you started below).
Proverbs 6:6 says "go to the ant you sluggard, consider her ways and be wise." The following verses remind us of how an ant while having no leader, gathers its food in the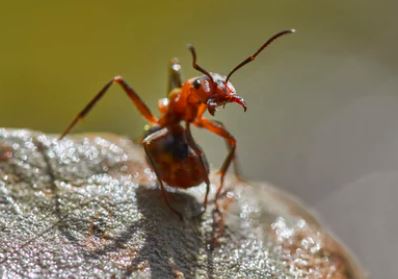 summertime storing it up for later. Verses 9-11 chide the bigger brained yet often less wise 'human' for unhealthy and unproductive practices. "But you, lazybones, how long will you sleep? When will you wake up? A little extra sleep, a little more slumber, a little folding of the hands to rest, then poverty will pounce on you like a bandit, scarcity will attack you like an armed robber." (Proverbs 6:9-11 NLT) Certainly we learn from the ant the need of diligence in every day living.
Recently small mounds teaming with ants sprang up in the cracks of our driveway. These tiny little marchers made it inside our domain. To combat the invasion, we sprayed them with ant spray but ran out. To replace it I looked for an eco-friendly option. I read of how a mixture of sugar, borax and water is supposed to work. Put a solution of these on a cotton ball and because ants crave sugar, they devour the deadly mixture and then carry the plague of death back to their colony.
Cleverly, we can use their appetite for sweetness to expose them to poison. This is another lessen the ant can teach the vulnerable human being. People have an appetite for sin and are drawn to it just like ants are to sugar. The book of Hebrews tells us that sin is pleasurable and how Moses chose to "…suffer affliction with the people of God rather than to enjoy the passing pleasures of sin" (Hebrews 11:25).
Sinful things can be attractive, desirable and pleasurable but remember, its satisfaction is only temporary. For instance, Lustful glances can advance to thrilling moments in forbidden arms, but the betrayal can turn into shame and many years of agony, brokenness and mistrust or worse. The thrill of getting away with a stolen candy bar is sweet until the thief convinces himself to commit bigger crimes only to get caught, earning a criminal record. The truth is "the wages of sin is death…" (Romans 6:23). It is a truth we shouldn't ignore. Sin will cost us something or maybe everything.
The problem is living without sinning is impossible. "All have sinned and fallen short of the glory of God." This nature of "sin spread to all men" from Adam. (See Romans 3:23 & 5:12) What do we do? We connect with the Perfect Savior who was tempted in every way like we are yet without sin. He bore our sin on the cross and rose again to set us free from sin's power. Though the wage of sin is death, He offers us "the gift of God… eternal life through faith in Jesus Christ." (Romans 6:23) How sweet the taste of salvation and forgiveness and the joy of following the path of His wisdom away from sin.