Out of the dirt – by Pastor Doug Cox
Out of the dirt!
by Pastor Doug Cox
There have been a lot of opinions about whether Kanye West's testimony is real. Many say they think his new commitment to faith in Jesus Christ is an advertising stunt to sell his new Christian album, 'Jesus is King.' Others believe he's the real deal. The truth is only time will tell. My bet is that his salvation is real, but that's what I believe for everyone who professes Christ. I was meditating about Kanye and have a few thoughts about what it could mean if he did have a true heart conversion.
Jesus taught how a seed must be planted in the earth and die, after that comes the growth and the fruit. It is interesting that Kanye was raised in church. He went to church three times a week and heard the gospel over and over. The seed of truth was planted in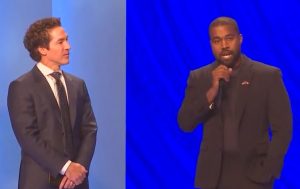 him but then church began to be boring to him. He rebelled and went the way of the world and began using his talents to launch a career that brought him to the top of the charts in his field of rap. Through rap he promoted sin in all forms using vulgarities and racial slurs and the list goes on. His talent and this ungodly style brought him into contact with a world of sinners who loved him and his music.
So, Kanye was a seemingly bad seed planted in a world of sinners, but God had a plan to use him. This plan was something only God could see or understand. Only God knew the truth that was buried in his heart and how the struggle between that truth and the lie of the world would eventually bring Kanye to a mental breakdown and need to seek treatment. Meanwhile God is still in love with the multitudes of sinners, young people and so on following Kanye. Nothing the church has been offering them seems to have been able to reach them. But wait a minute, Kanye is.
What a struggle it must have been for Kanye. He knew that submitting to Christ meant he would have to walk away from his old life, that he could lose everything including multitudes of his followers. On the other hand, if he didn't surrender he would still be in a wrestling match with God. Thankfully he surrendered to Christ and died to his old life. Now he is working on living out his new life, reaching new and old people and using his talents to serve Jesus the King.
God truly raised him up out of the dirt of the world and is using him to till that dirt with his music and testimony and in the process bringing people who have never been to church, into church. People who have never heard much about Jesus, into a saving knowledge of Christ. I'm thinking his testimony of how he was dead but now is alive is true. I think we should pray for him to be as successful for Christ as he was in the world.
Listen to the following link from an interview with Joel Osteen and see what you think.
The only superstar.