Pandemonium or Peace! By Jana Cox
Pandemonium or Peace!
By Jana Cox
Pandemonium – Wild and noisy disorder confusion, an uproar. It can be caused by a lot of angry or excited people. The opposite of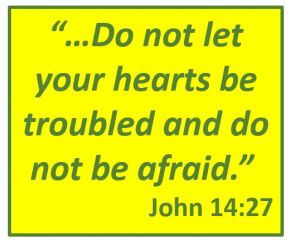 this is peace or silence. As I laid in bed last night I could not sleep, and I began thinking about many of the things that are going on in our world. As I mused over these things including going to the grocery store and not being able to buy toilet paper, I started to think about many of the words Jesus spoke to HIs disciples in the situations they found themselves in.
We all find ourselves in circumstances that we are not quite sure how to handle. Fear can end up overwhelming us when we find ourselves in places that are unfamiliar to us. Who would have thought we would have been in
a position that we couldn't buy toilet paper? Our world is in a place of unrest.
Many people are panicking, and others are angry about all that is going on around them. We are now dealing with what is called the coronavirus a new disease that has infected some people, mostly those that have been traveling out of the United States. It is a disease that has no vaccine for the time being and now the CDC is working on how to get a vaccine for this new disease.  Meanwhile, many people are panicked, and many others are in a state of pandemonium.
However, this place we find ourselves in is no surprise to Jesus. The word of God tells us there is nothing new under the sun. (See Ecclesiastes 1:9).  With that said, we can look to the words of Jesus and find comfort. He has told us in His word that He has left us with His peace. John 14:27 says "Peace I leave with you. My peace I give you. I do not give to you as the world gives. Do not let your hearts be troubled and do not be afraid." As we place our trust in the words of our Lord we will find the peace we need. When we trust in Him fear will diminish and faith will arise in our hearts that the Lord will take care of us.
The disciples often found themselves in places that there seemed to be no provision, but in these situations, Jesus always gave them direction. I think of the story where there was not enough food to feed the multitudes. In this instance, Jesus told HIs disciples to bring the fish and loaves to Him. He then proceeded to look up to heaven and blessed them. Out of these two small elements they were able to distribute to the people. They all ate as much as they wanted, and afterward, there were twelve baskets of leftovers.
I believe we can learn from this story that we can trust Jesus for our provisions. As we look to Him, He is well able to take our little and bless it into more than enough. Trusting is an act of faith, but as we place simple trust in Jesus, we will experience His direction for our lives. The Bible teaches us that a good man's steps are ordered by the Lord. (See Psalm 37:23). As we receive His directions peace and insight will follow, turmoil and panic will leave, and we will have the strength and ability to face whatever comes our way. May you find God's comfort, peace, and direction in whatever you are facing.
—Final thoughts—
As Christians how can we can prepare ourselves for these types of situations? It is not wrong to prepare in the natural. Stocking up on certain supplies can be an act of wisdom, but we should always look to Jesus for answers and direction in the circumstances we find ourselves in. It's alright to have concerns but we must not let fear paralyze us. Nothing we face is a surprise to Jesus. He has the answers we need.