The gates of our lives! by Jana Cox
Recently in the Simple Truth's Bible study, we have been looking at the book of Nehemiah. During this simple study we have unearthed some simple truths that we have been able to apply to our lives. This last week we looked at some of the gates that were spoken of in Nehemiah and were able to look at how these gates can be applied to our lives on a personal level.
I believe the most important gate we looked at was the Sheep Gate. Nehemiah 3:1. This gate represents the gate that Jesus came through. The Sheep Gate was the place of judgment of sin.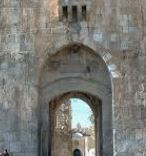 This is the gate we first need to open in our lives if we are to have a personal relationship with the Lord Jesus Christ. We meet Jesus as we open the gate of our heart and let Him in receiving the work He has done for us through His death, burial and resurrection. Have we opened the gate of our heart to Him? John 10:7-9
Another gate we encounter after we have gone through the sheep gate is the Fish Gate. The first assignment Jesus gave to His followers who received Him was to send them out and become fishers of men. Jesus gives us an assignment beyond just ourselves. Matthew 4:19 Jesus says, "Come, follow Me, and I will show you how to fish for people!" Investing in others is always a priority with Jesus.
Moving forward we come to the Old Gate this gate can remind us of the need to follow Gods paths. Jeremiah 6:16- "This is what the Lord says: Stop at the Crossroads and look around. Ask for the old, godly way, and walk in it. Travel its path, and you will find rest for your souls. The Lord encourages us to turn our hearts to His ways that we will have rest and liberty for our souls. We must be seekers of His ways.
As we continue in our walk with the Lord we find ourselves at the Valley Gate. The valley can be a place of learning and growing. It can be a place where we find the experience of dark and fearful times, a time where we face enemies. This is the place we will need to lean into the Good Shepherd and trust His rod and staff to comfort us. This can be a place of great learning and trust. Remember there is always a challenge in growth. Psalm 23
I trust this short message has encouraged your heart and given you insight into your life. We will continue this journey next week in our midweek manna.
God bless you,
Jana