By Doug Cox
We use them to justify our vices, mask fears, excuse ourselves to live a worldly life, to escape responsibility, cast blame and clear our conscience and sometimes to live a shallow spiritual life. I'm talking about excuses. We all make them and here's one I almost used to avoid writing this article. "It's to strong and will make people uncomfortable".
Hebrews 4:12 says "…the word of God is living and pow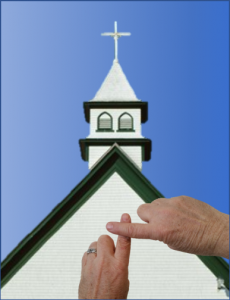 erful, and sharp… and is a discerner of the thoughts and intents of the heart." (NKJV) Like most people, pastors don't like confrontation or looking critically at their own life either, but God's Word is no respecter of persons, we all must see and deal with our own weaknesses and shortcomings. Correction can be a painful process, but when handled right it can produce good fruit.
Correction can be misconstrued as a spirit of condemnation, but if we are honest we all need it at times. We can get to good at making excuses and excuses can be paving stones that lead us away from important responsibilities and God's will for our lives.
Is simply saying I love you enough? For example, I can say I love my wife, but if I avoid her like the church, (I mean plague) and treat her with contempt and hatred, those words don't mean much. On the other hand, if we long to be together when apart, if we work out our problems and forgive and so on, saying I love you means something.
Here's where this gets uncomfortable. Many people say they love Jesus, but their actions don't prove it. Many claim to belong to the family of God through faith in Jesus but have no purposeful affiliation with a church. They support no local body and make excuses to justify their absence, saying there aren't any good churches. Or, they find something negative about the preacher, or doctrine or music or people. They don't have time, or like organized religion and on and on. Can they act on all these excuses and still claim passionate love for Jesus?
Jesus shed His blood for all. Why? So all can "…become one with Him and the Father". (John 17:21-23) Can we love Him and deny Him His desires at the same time? He said, "If you love Me you will keep my commandments." (John 14:15) And, "By this shall all men know you are My disciples, by your love for one another". (John 13:35) Notice He didn't say they would know His disciples by their love for 'Him', but by their love for one another. He also said, "I will build My church and the gates of hell will not prevail against it". (Matthew 16:18) I wonder what He thinks about so many that refuse to help Him build His church?
Many people declare a personal relationship with the Lord and that's great. But He wants believers "…standing fast in one spirit, striving together for the faith". (Philippians 1:27) He wants "…the whole body knit and joined together, … every part doing its share causing growth to the body." (Ephesians 4:16) He wants everyone with faith in Him to realize others in the body 'need' them. "The eye cannot say to the hand I don't need you". Please read 1 Corinthians 12:12-27 when you get time and take special note of verse 18 "God has set the members, each one of them, in the body just as He pleased." The Lord Jesus has a place for us all somewhere! If you've walked away, you'll be welcomed back! No excuses!