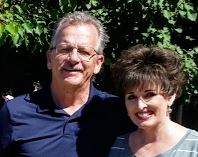 Doug and Jana Cox began their pastoral ministry from their home in 1988 after being born again in 1985.  They have remained faithful to teach life changing messages of faith, hope and love for over two decades now.  Both teach in a simplistic yet powerful way that compels people to love God and to walk in relationship with Him.  Many people's lives have been changed and transformed through the messages of hope they deliver.  They believe that God wants to speak to His people and as people come to church with an open heart He does speak into their lives in a meaningful and powerful way.
Quint Wagner grew up on a ranch/farm in Cedaredge, Colorado where he learned the principles of working hard from his dad. Quint's mother loves the Lord very much and raised her children in church. Quint grew up going to the Assembly Of God. In 1983 Quint moved to Evanston, Wyoming with a friend from child hood to work in the oilfield. This is where he met and married Jewel his wife of 29 years. Quint is the proud father of two children Colby and Katie. His son Colby is married to Jessica and they have a happy little daughter Kloie and son Connor. Katie a beautiful young woman gifted in many ways is married to Scotty.
Quint was saved at a very young age and knew he had a calling to serve the Lord. While working with a church Quint was ordained as  a minister. After being led to Crossroads and many years of faithfulness to the body there Quint was made the associate Pastor. Jewel is over children's church ministries and helps with scheduling and many other things in the church. They have a deep love for the Lord and for people and Crossroads is blessed to have them in leadership positions.
Come and visit us…
Experience Powerful Worship and Relevant Teaching !